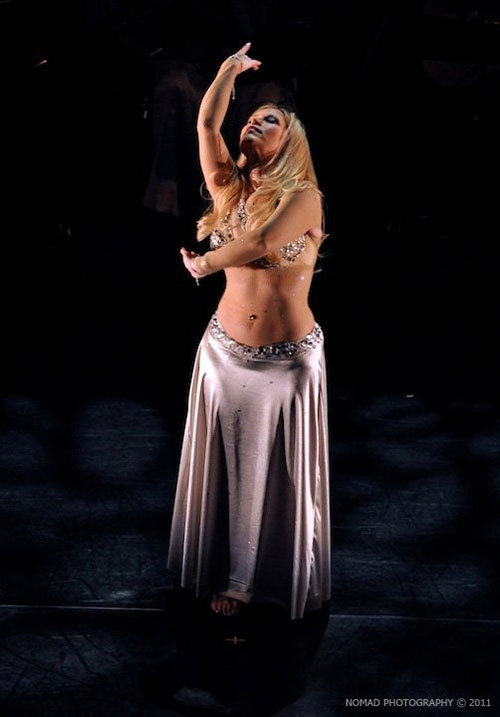 Yasmina Ramzy
Dance Style
Bellydance
Workshop Description
Accompanied by live Arabic drummer Sulieman Warwar, Yasmina Ramzy will start with helping students to discover the foundation muscles of Bellydancing. This will then evolve into the basic movements followed by the layering of these movements. Bellydancing is often like rubbing your stomach and tapping your head at the same time, times ten. The movements are subtle but very intricate and demanding. Yasmina will also discuss where many of the movements come from and the styles of Bellydance from different regions.
Artist Bio
Yasmina Ramzy, Artistic Director of Arabesque Dance Company, received her key training from various teachers in the Middle East, including Mohammed Khalil of the National Folklore Troupe of Egypt. Her understanding of Middle Eastern dance is complimented by a broad base in many forms of dance (Modern, Azerbaijani, Latin, etc), and in Arabic music. She has performed, taught and choreographed more than 16 styles of Middle Eastern Dance at all levels from beginner to professional, since 1981. In addition to teaching and performing locally, Yasmina tours extensively throughout the world. She has garnered the accolades of local and international media, and has been featured in numerous articles and reviews in Dance International, The Toronto Star, The Globe and Mail and The Arab Star. She is widely recognized for her profound respect for and understanding of Bellydancing, and for her commitment to women's issues. She is a member of the Canadian Alliance of Dance Artists and serves on the board of directors for Dance Ontario.
Artist Website
www.arabesquedance.ca