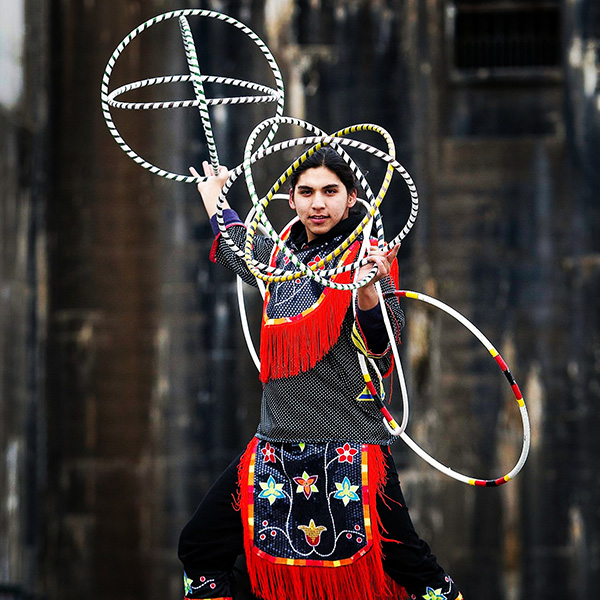 D.N.A. Stage: Nimkii Osawamick
Dance Style
Powwow
Workshop Title
Hoop dance
Workshop Description
Workshop will engage people through the art of song and dance teaching them bravery and courage as we menuver through the hoops creating and learning put the creation stories and how we are a part of this circle of life.
Artist Bio
Nimkii-nini (Thunder-man) is Odawa/Potawatami from Wiikwemkoongsing Unceded Territory on Manitoulin Island, ON. Member of the wolf clan. Nimkii has been always been around dance since the age of 3, growing up around the pow wow trail he earned his first eagle feathers as a Fancy Dancer. At the age of 13 he earned his first set of hoops and has been learning ever since. Nimkii is well known in the community for sharing his stories and the stories of our ancestors passed on through song and dance.

Nimkii's First experience to the performance world was Fancy bustle dancing for Kehewin Native Dance Theatre with music artist Buffy Sainte Marie at Skydome Pow wow: Aboriginal Music Awards December 2008, the later on performed on the Buffy Sainte Marie - "No No Keshagesh" music video June 2009.

2010 Nimkii was given the opportunity by Marie Mumford, Director of Nozhem Theatre at Trent University to act in his first play on the stage based on Louis Riel.

2012 Nimkii went took his first dance intensive and apprenticeship with DANCING EARTH: Indigenous contemporary dance creations and got invited to do the Premiere Performance of "Walking at the Edge of water" with- Rulan Tangen, Founding Director, Dancing Earth.

Nimkii also worked as a puppeteer for "Rabbit and Bear Paws"created by Chad Solomon, as a character Jiibay the spirit, operating full body suit, touring from school to school in the local area. 2011-2013 Nimkii got a part in his next acting role with Mazinaw Rocks Productions in the play "Wisakedjak" and went on his first mini tour in central Ontario their final year of production.

After Nimkii got his name out there as an indigenous dancer and performer, he had was given the opportunity to work with Kaha:wi Dance Theatre and working along side with artistic director Santee Smith, completing 3 tours in "The Honouring" and 1 in "Transmigration" from 2013-2016. Through KDT Nimkii was able to practice his hoop dancing skill professionally, and performed in "Inter-Hoop" Fall for Dance Festival along side with world champion hoop dancers in 2015.

Nimkii is now currently hoop dancer for cellist Cris Derksen Trio*, and the Orchestral Powwow*, and has been given the opportunity to share his gifts around the world.
Artist Website
www.dnastage.com