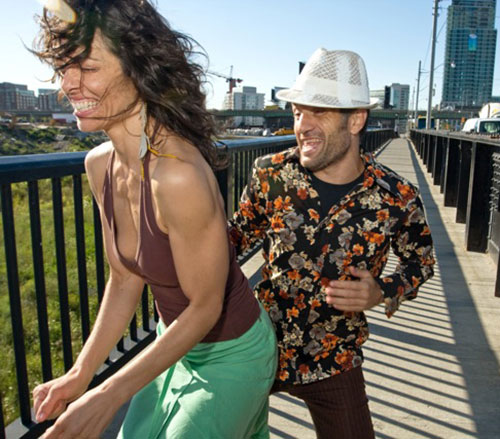 Miko Sobriera
Dance Style
Salsa Dura
Workshop Description
Salsa (literally "sauce"), perfectly describes a living, current genre of music and style of dance composed of various ingredients including influences from Africa, the Caribbean and Spain.
Artist Bio
Growing up in little towns in Venezuela, Mexico and Spain, Miko had the opportunity to be exposed to Afro-Venezuelan, Latin-Caribbean, and Spanish popular culture. Since his arrival to Toronto in 1994, Miko had the opportunity to work with many contemporary choreographers such as Denise Fujiwara, Claudia Moore, Maxine Heppner, Pam Johnson, Alejandro Ronceria, Learie McNichols, and Karen Kaeja. He has also worked with Montreal choreographers Katherine Tardiff, Francine Gagne, and Victor Quijada, plus several dance-theatre companies such as Corpus and Sound Image Theatre, and various other artists. Miko is a teacher of Salsa Dura, a street style salsa in which the focus is in reading the extremely rich, and yet accessible, musical compositions of the genre. Students develop their own style, because the goal is not to choreograph the dance, but to improvise based on what the music and their partners are providing them with. He has taught for dance companies, studios, universities, colleges, and high schools, and participated in many events and fund-raisers across Canada over the past 14 years. Miko and Cristina lead a fun salsa class that is inspired by Venezuelan street dance, as opposed to academic show styles. The warm-up consists of head, shoulder, rib and hip isolations followed by some basic steps. Miko instructs on leading techniques while Cristina provides techniques for following. Dancers are encouraged to use whatever elements they have - anything from popping to flamenco and tango movements - to express themselves. Emphasis is placed on understanding the rhythm and accents of the music to give students the basic tools to improvise and to make the dance their own. No partner necessary.Bare feet encouraged.
Artist Website
www.movementcentre.com