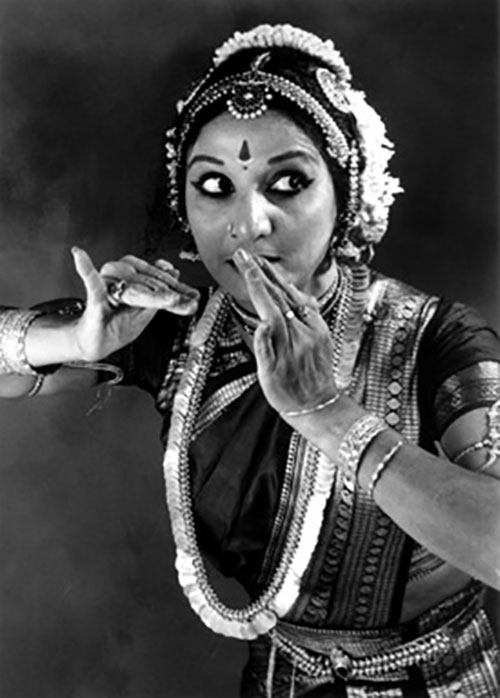 Menaka Thakkar
Dance Style
Indian Dance Adavus
Workshop Description
Dr. Menaka Thakkar will demonstrate the basic steps or "adavus" of the two kinds of Indian dance, pure dance movement and narrative or "abhinaya" dance where the body and especially the eyes are used to tell a story. Students will learn to centre and ground the body to release the flow of energy, the rhythmic patterns created by the feet and leg movements and the role of the arms, hands and finger movements (mudras) in relation to the neck and eye movements. Dr. Thakkar will also explain and illustrate how Indian dance is used to communicate a narrative through arm, hand, neck and eye gestures.
Artist Bio
When our Artistic Director, Menaka Thakkar, came from India thirty-three years ago, there was really no classical Indian dance to speak of in Canada. Recognizing a need to expose and educate the dance community and the public on this ancient art form, Menaka Thakkar proceeded to travel across Canada educating and performing in universities, schools and theatres. Eventually, Ms. Thakkar opened the first Indian dance school in Canada, "The Canadian Academy of Indian Dance: Nrtyakala", which trained many of her current dance company from the age of five years to become professionals. Today the Menaka Thakkar Dance Company is without question, one of the finest classical Indian dance companies in the country. Menaka Thakkar herself has become well known and respected not only in the Indian dance community but also to the western dance community as a dancer, choreographer, educator and colleague. Menaka Thakkar was responsible for establishing Indian dance forms such as Bharatnatyam in the same category of high art as Ballet and Modern Dance and was the first South Asian artist to receive operational funding in 1993 from the Canada Council. Today, at 63 years of age, Menaka Thakkar continues to dance, educate and develop groundbreaking choreographies. Whether in traditional or non-traditional styles, Menaka Thakkar's choreography is rich, textured, and multi-layered in meaning and nuance.
Artist Website
www.menakathakkardance.org