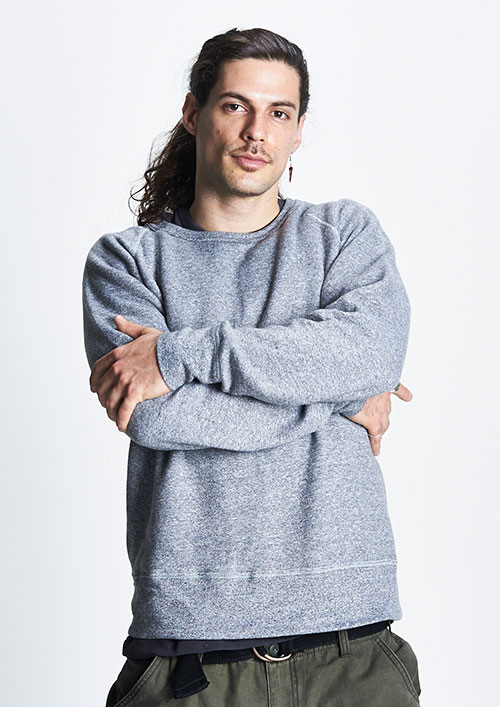 Ground illusionz: Marcelino DaCosta
Dance Style
B-Boying / Breakin'
Workshop Title
Flava Foundation
Workshop Description
Flava Foundation (Beginners to Advanced)

The importance of Breakin' aesthetics vary depending on mentality, but one thing remains constant and undeniable, the "Flava Foundation". Join FrostFlow for a unique class of technique, expression & mentality exploration. Using "Breakin'" drills, discussions, custom theory and experimentation, Frost aims to open pathways of style and help you to manifest your own Flava Foundation".
Artist Bio
Professional Artist, Educator & Community Engagement Worker, Marcelino DaCosta aka FrostFlow has been a practitioner and advocate of Hip-Hop culture since 1998. Founder of the internationally renown Ground illusionz - Hip-Hop Collective based out the G.T.A., Canada with membership & affiliation spanning worldwide to Taiwan, South Korea & Japan.

Frost Flow is internationally respected as a dynamically progressive and passionate signature B-Boy artist; performing and opening for legends such as Maestro fresh Wes, Oscar Peterson, KRS One, Talib Kwali, Melle Mel & the Furious 5, to name a few and has been featured on MUCH, Global, CBC, CTV, TVO & Rogers TV as well as various international broadcasts since 1999.

As a Canadian B-Boy champion, Frost has lead and trained members of his crew to win countless titles both locally and internationally over the last 20 years, while earning his own esteemed solo titles with conviction: Ottawa "Cipher Champ" 2008, Toronto "Style Champ", 2008, "Absolute Canadian B-Boy" 2009, Toronto "Top Rock Champ" 2010, "B-Boy Lifestyle" Award 2011, & "Manifesto Arts education award" & Top nominations 2011-2013, & Skillz-O-Meter" National Champion 2012, & Manifesto Top Rock Champ 2014, UBL top 4 in Toronto 2015 & "Rumble in the DOT" finalist of 60 2017.

Along with competitive experience, Frost has also become a national ambassador, local leader and pioneer of many grassroots public health initiatives for youth including: "The Word Project" 2004', "Behaviour Arts Fest" 2009-14', & "R.H.Y.T.H.M." & Let Go Expo "2011', & "Share Our Spirit" 2012-14, & "The HUB" 2015-17, & "STORYTiME" (Japan) 2015-17 "Full Step Saga" 2016 all while supporting and representing world recognized organizations & companies such as & "BBoyizm", "UNITY" Charity" & "BluePrint Pathways" as a performer, producer, program coordinator, facilitator, and senior staff. He has also been instructing for City Dance Corps since 2005 and officially has the longest running Breakin' class in Toronto!

Frost currently shares knowledge of Hip-Hop Culture and promotes the arts through continual effort and inspiration on a multitude of platforms: From street-level to stage performance, to speaking at universities and along world-class innovators at TEDX. Frost Flow represents a definitive essence of his craft.
Artist Website
FullStepSaga.com