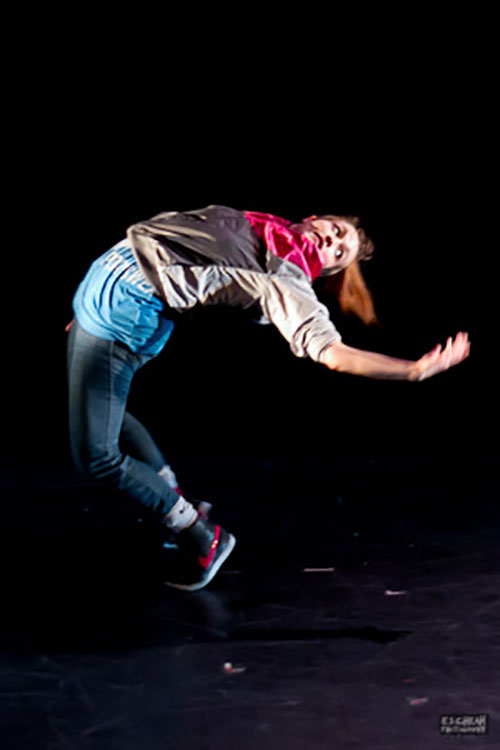 Alias Dance Project: Lauren Cook
Dance Style
Alternative Contemorary - Alias
Workshop Title
Human/Animal
Workshop Description
Through the exploration of momentum, resistance, impulse, power and stillness, we will gain an understanding of how we can connect ourselves to our environment and to each other. Exercises and sequences will integrate a diverse range of movement styles into formal structures on the floor, standing in the centre, and across the floor. We will find ways to bind our individuality with our technique and together we will develop the tools we need to understand how our individual body moves and how to push our physical limitations through a movement style that is rooted in extreme athleticism and rhythm.?
Artist Bio
Lauren Cook is the Artistic Director of Alias Dance Project, a choreographer, teacher, performer and owner of The Cornerstone Studio. Cook graduated from Ryerson's Theatre Performance Dance Program in 2005, and since has been on a quest to make more sustainable dancing opportunities for herself, her company and her community. Since becoming Artistic Director in 2012, Lauren has self-produced several theatre and site-specific productions, and showcased her work across Canada. As a performer, Cook has worked with notable choreographers such as: Emanuel Jouthe, Heidi Strauss, David Earle, Darryl Tracey, Apolonia Velasquez, Ofilio Portillo, Allen Kaeja, Troy Feldman, Susie Burpee, Valerie Calam, Emmanuelle Le Phan and more. Lauren continuously commits to opening herself to new information in order to truly represent 'contemporary' art and performance, studying across Canada and Europe in disciplines such as street dance, parkour, classical dance forms and alternative techniques. As a teacher, Lauren is currently part time faculty at Ryerson University, and an Artistic Mentor for the Toronto District School Board.
Artist Website
aliasdanceproject.com
Artist Email
lauren@aliasdanceproject.com