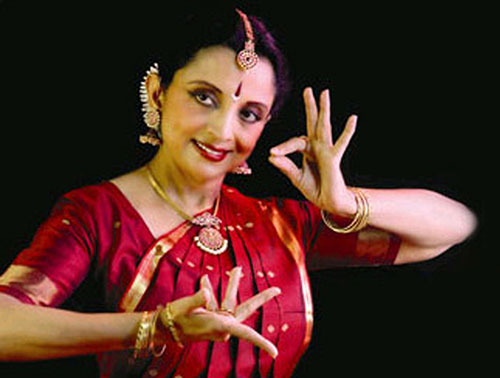 Lata Pada
Dance Style
Bharatanatyam
Workshop Description
Experience the dynamic rhythms and elegance of Bharatanatyam dance with Lata Pada, one of Canada's foremost Indian dance artists. Artistic Director of Sampradaya Dance Creations, Lata Pada has forged new directions in dance in Canada through her innovative choreography in classical and contemporary Bharatanatyam. She has de-mystified Bharatanatyam into a world art form that is dynamic and accessible. In this interactive and energetic workshop, you will have the opportunity to try out exciting foot rhythms, unique movement patterns and expressive hand gestures. Space and movement as perceived as symmetrical and geometrical shapes, with turns and leaps, accentuated with rhythm and sculpture like poses. Experience the eloquence of abhinaya, the art of interpreting poetry with elaborate use of facial expression and stylized hand gestures. Join Lata in experiencing a new way of knowing your body.
Artist Bio
Artistic Director of award winning Sampradaya Dance Creations, Lata Pada is at the forefront of South Asian dance in Canada. Originally from Bangalore, India, Pada has made Canada her home for forty-four years. She has trained under India's distinguished gurus Kalaiamamani Kalyanasundaram and Padmabhushan Kalanidhi Narayanan. Pada's career spans an impressive spectrum of performance, choreography, teaching and research. Lata's work is recognized as daring and innovative in the exploration of bharatanatyam, both in traditional and contemporary works. Over her extensive international solo career in India, Canada, USA, Indonesia, Malaysia, Colombia, Mexico, Ireland and Cuba, Pada's choreography has featured in the 1998, 2002 Canada Dance Festivals, Kalanidhi Festivals and 2001 Harbourfront's World Moves Dance Series. Lata holds a M.F.A. in Dance from York University. She has received several awards and honours for her contribution to the arts in Canada. Lata currently serves on the Advisory Committees of the Toronto Arts Council, York University's Fine Arts and the Advocacy Committee of CDA.
Artist Website
www.sampradaya.ca