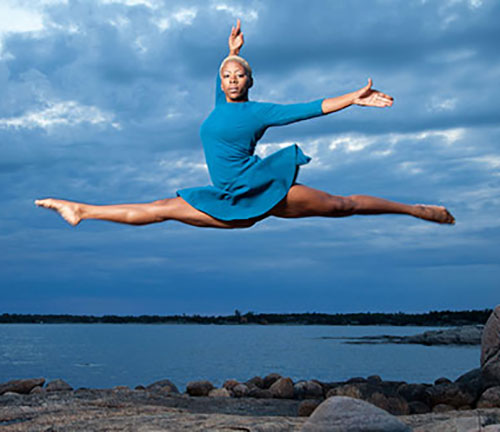 Jasmyn Fyffe
Dance Style
Contemporary - Fyffe
Workshop Title
Phrase Building
Workshop Description
In this workshop the artist guides the students through guided improvisational techniques, the teaching of phrase work and then the construction of phrasing with and by the students. We will create tasks from movements to create from what has already been created. Getting the juices flowing and creating a basis for the creation of new material.
Artist Bio
Jasmyn Fyffe is described as"a young artist whose body of work is developing in a style all her own."(Sway magazine – Anya Wassenberg).

Winner of the 2013 Frankie Award (in Montreal) for most outstanding choreography/choreographer for her 50 min work "Pulse. She also works independently and has performed/choreographed in Toronto, Brooklyn NY, Montreal QC, North Bay O, Sinop, Turkey, Pittsburgh, Seattle, Berlin and Birmingham UK. Commissions include: Cahoot's Theatre, Toronto Dance Theatre, Soul Pepper Theatre, The School of Toronto Dance Theatre, Cawthra Park Secondary School, Obisidian Theatre and K'aeja D'dance to name a few. Jasmyn worked on Fox Production's "Rocky Horror Picture Show" under the direction of Kenny Ortega in 2016 and she was recently featured on CBC's "HERstory in Black" honoring 150 Black Canadian women making a significant contribution in Canada. As a performer she has worked with: Aria Evans, Hanna Kiel, Gadfly, Julia Cratchley, Marie Lambin, Vanessa Kimmons, Jennifer Dallas, Kaeja d'Dance, Debra Brown, Julia Sasso, and more. Her recent solo "what do you see?" presented by Summerworks Perfomance Festival received rave reviews and she got an honorable mention for the Jon Kaplan spotlight award's. Last winter she completed a month long residency in Berlin, Germany at Lake Studios with the support of the Ontario Arts Council and she has been the recipient of fourteen government grants (Toronto, Ontario and Canada Arts Councils) that have supported her career tremendously in terms of production, creation, travel and professional development. "Fyffe is an indisputably talented performer and dancemaker," Kathleen Smith, The Dance Current.
Artist Website
www.jasmynfyffe.com