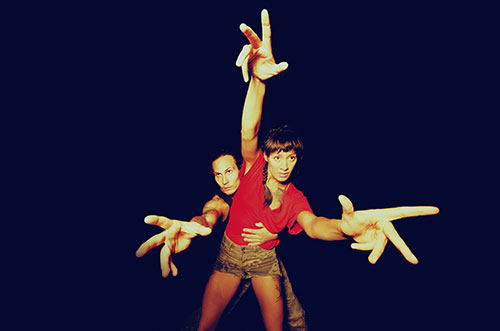 Tentacle Tribe: Emmanuelle Le Phan
Dance Style
Urban Contemporary
Workshop Title
performance
Workshop Description
performance
Artist Bio
Tentacle Tribe is a Canadian-Swedish creative alliance between Emmanuelle LêPhan and Elon Höglund.

This Montreal-based dance company creates uncommon dance works with a contemporary twist using conceptual Hiphop and influences from all types of earthly creatures. As practitioners of different dance and movement techniques, active participants in the street dance scene, b-boy and b-girl, and as stage performers, they form Tentacle Tribe.

Approaching choreography through a wide variety of movement philosophies, they wish to create work that transcends the boundaries separating movement styles, and pieces that express the embodiment of music beyond technique. The work experiments with intricate partnering, refined musicality and a saturated dose of physical choreography.

Although having worked together since 2005, Tentacle Tribe was founded in 2012 while the two artists were performing their first official collaboration, a duet tailored for the Cirque Du Soleil stage in Québec City. This duet was also adapted into a short film entitled: Elon & Emmanuelle by director Natalie Galazka which was selected in film festivals in the US, Canada, and Italy. Their second creation, When They Fall, was performed at Festival Quartiers Danse 2012 and 2013 in Montreal, as well as in London's Hiphop Theater Festival Breakin' Convention 2014. Their next creation Nobody Likes a Pixelated Squid was presented in Montreal, Toronto, Oslo, Stockholm, Calgary, Vancouver, Mexico City, Saltillo, Monterrey.
Artist Website
www.tentacletribe.com