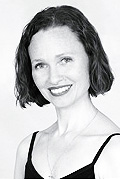 Desiree Champion
Dance Style
Ballet
Workshop Description
This dymanic Ballet workshop is designed to be enjoyable for students with previous dance experience as well as students new to the art form. Ms. Desirée Champion, renowned teacher and choreographer, will inspire a love of Ballet while students hone their skills at the barre, in the center and in corner work in this enjoyable class. Come discover the inner strength and grace that lives in all of us!
Artist Bio
As a former professional ballet dancer, Ms. Champion brings a wealth of knowledge and experience to her teaching. She began her dance training at the CAPAD Ballet Company of South Africa, moved on to study at the National Ballet School, The Lois Smith School of Dance, Les Grands Ballets Canadiens, The Royal Winnipeg Ballet, Banff School of Fine Arts and Randolph Dance Theatre. Ms. Champion's professional career includes performances with Les Grands Ballets Canadiens, Banff Festival Ballet, as a principal dancer with Saskatchewan Theatre Ballet and The Alberta Ballet Company.

Over the years Ms. Champion has been devoted to teaching dance at Marr MacDance and Theatre Arts, The Dance Studio, Cardinal Carter Academy for the Arts, The Canadian Academy of Music, Dance and Dramatic Arts, The Randolph School of the Arts, and Dance Teq at the National Ballet of Canada. Currently as ballet department head at The Woodbridge School of Dance, Ms. Champion has choreographed many ballets including Hansel and Gretel, Pinocchio, Thumbelina, Sleeping Beauty, The Wizard of Oz, Snow White, Cinderella with 1st soloist Etienne Lavigne of The National Ballet Company and restaged Act 2 of Swan Lake with principle dancers Chan Hon Goh and Guillaume Cote of The National Ballet Company.