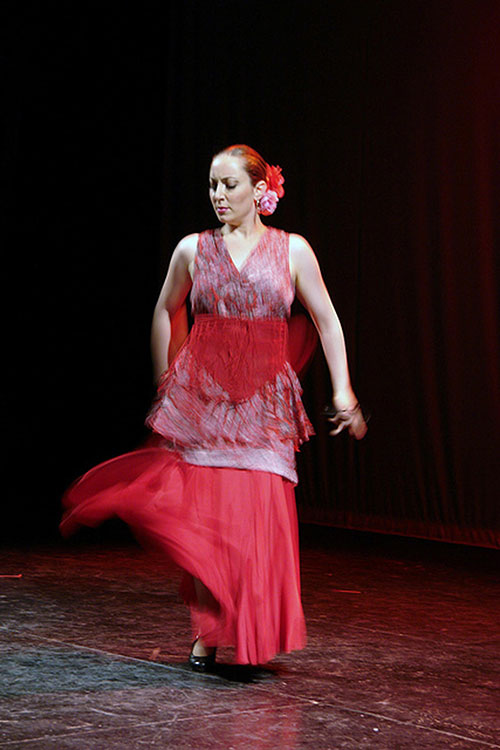 Catalina Fellay
Dance Style
Flamenco
Workshop Description
Flamenco describes a genre of music, song and dance from Andalusia in Southern Spain. This workshop will explore the basic techniques of flamenco dance including arm and hand movements, footwork and rhythmic structure. To provide students with a sampling of the variety in flamenco rhythms, the palos (song styles) of rumba flamenca, tongos flamemcos and sevillanas will be introduced.
Artist Bio
Catalina Fellay-Dunbar is a Toronto based dance professional and academic interested in culture specific dance forms. Her professional dance experience, although varied, has long been focused in Flamenco and Classical Spanish dance. During intensive study in Spain, she was awarded a diploma in Escuela Bolera from Master Eloy Pericet, one of the few people remaining in the world specializing in this eighteenth century Spanish court dance. As a member of the Esmeralda Enrique Spanish Dance Company, Catalina has enjoyed over ten years of performances with acclaimed performers from abroad. In addition, Catalina was a member of Xing Dance Theatre of Canada where she performed and trained in several forms of Chinese traditional and contemporary dance.

Her interest "beyond the steps" prompted the pursuit of a BFA and an MA in Dance Studies at York University, an MA from the Drama Centre at the University of Toronto, Certification in Movement Analysis from the Laban Institute for Movement Studies and is presently pursuing a PhD in Dance Studies at York University. Her latest research interests lie in the intersection between cultural policy and dance forms outside of the ballet and modern dance traditions in Toronto, Canada.