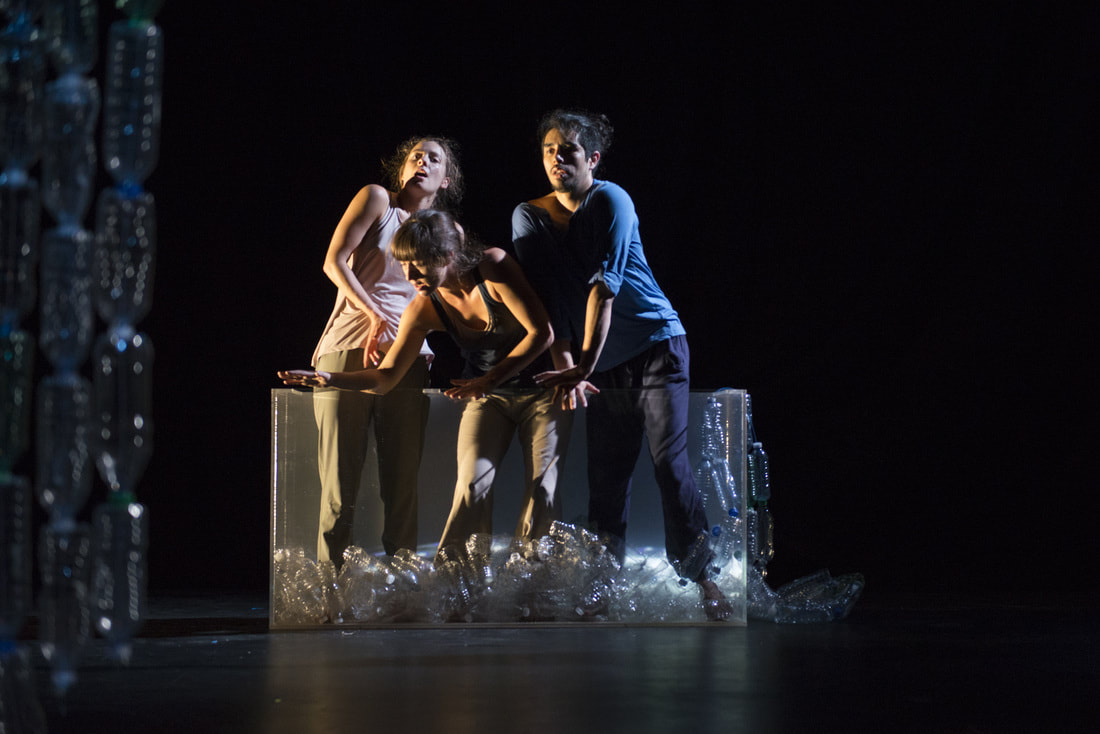 The Go To Company: Aria Evans
Dance Style
Contemporary Dance Theatre
Workshop Title
Performance
Workshop Description
"Dear Human, will you miss me when I'm gone?"
– Water

Desiccated is a movement based multidisciplinary performance that merges contemporary dance, a soundscape, sculptural installation and video projection. As our fresh water supply depletes and water becomes a commodity that we buy and sell in bottles, Desiccated explores how our relationship to water is changing. It hints to how we might become informed, how we contribute to the problem and how we can find a solution to make water remain a human right. With movement inspired by waves, rivers and waterfalls and interviews of childhood memories in and around fresh water integrated into the performance, this physical and poignant collaboration invites us to reflect on what used to be, what is, and what is to come.
Artist Bio
Aria Evans is a Toronto-based interdisciplinary artist working in film, dance creation and performance. She draws on her experiences as a woman of mixed race (Mi'kmaq/Black/settler heritage) as well as her BFA to capture meaningful social and cultural themes through her interactive art. Aria is artistic director of the Go To Company where collaboration is the departure point to the work that she creates.

Aria has presented her own choreographic work with the Toronto Concert Orchestra, Ontario Culture Days, Soulpepper, SummerWorks, the Toronto Fringe, Nightwood Theatre, the University of Toronto, HarbourKIDS, Native Earth Performing Arts, the University of Toronto Scarborough, FRESH BLOOD, the Gardiner Museum, the Harbourfront Centre's Next Step Series, Series 808 and Dance Ontario, Long Winter, Labspace Studio and many more. Her works have been presented in both North America and Europe. She has toured with company Kaha:wi Dance Theatre, created work commissioned by the Indigenous Performing Arts Alliance, performed for the Indspire awards, participated and performed in works with Theatre New Brunswick, Michael Greyeyes, Penny Chouchie, Julia Sasso, Peggy Baker, The Banff Centre, A Tribe Called Red, Susan Lee, Constance Cooke and Expect Theatre, to name a few.

Aria has sat on Canada Council and Dora Award juries, been an Invited Guest Contributor to the 20th anniversary Canadian Arts Summit, talked on interdisciplinary panels for On The Move, TAPA's INDIEX as well as DarkNights and in 2017 she was chosen to participate as one of Culture Days' Youth Arts Ambassadors.
Artist Website
www.gotocompany.org