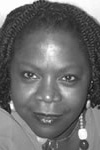 Andrea Douglas
Dance Style
Afro-Carribean
Workshop Description
The Afro-Caribbean dance Workshop will be an interactive, fun, lively and energetic dance workshop to the accompaniment of drums and recorded music. Participants will learn the rhythmic movements and information on Pique/Bele will be shared and explored throughout the session. The session will begin with a simple warm-up using basic and isolated steps from the genre, and will progress with more challenging steps Participants will learn a variety of steps which they will have the opportunity to actively use to develop their own performance routine in small groups. The session will conclude with each group presenting their choreographed routines, and followed by a live dance presentation by members of In-Motion Dance Company. Skirts and scarfs will be provided.

The Warm-Up using isolated movements with various parts of the body in flexion and rotation.

Spatial orientation with non-locomotor movements from the specific genre of Pique/bele using upper, lower and body extensions to execute.

Spatial orientation with locomotor movements and exploring directions, flow, dynamics and texture (using movements from the specific genre).

Developing the dance through the use, and exploration of specific movements studied during the Workshops (using movements from the specific genre).

Working with and reflecting on applications/question and answers.
Artist Bio
Andrea Douglas, B.F.A. B.Ed & M.F.A, is an established and highly experienced Dance Educator and Choreographer. She has performed with the Jamaica National Dance Theatre Co, the Guyana National Dance Company, and the Caribbean Dance Theatre in Toronto. She is currently the founder and Artistic Director of Children's Dance Theatre, a community organization and youth Dance Theatre Organization. In addition Andrea is a freelance choreographer, and a Board member and resident choreographer of the Applause Institute and Youth Finishing School, and sits on the Institute's Career Panel in support of future educators. Andrea is the recipient of the Guyana Folk Festival 2005 Award for Outstanding Contribution to Guyana's Cultural and Heritage. When not involved in the arts, Andrea Douglas is a full time School Administrator with the Toronto District Board working at Charles H. Best Jr. Middle School in North York. Children's Dance Theatre was founded by Andrea Douglas in September 1993, and is a non-profit community organization that offers a structured dance program with classes three days a week at the Driftwood Community Centre (in the Jane Finch Community). Caribbean Dance, Jazz, Modern (Graham/Horton) and creative Movement, include the various dance styles offered. The organization focuses on nurturing and harnessing the dance talents of children and youths ages 4 and over.

In Motion Dance Company is a professional youth ensemble. Members of the group are all graduates of Children's Dance Theatre's performing Team. The Company has appeared at festivals and major events in metro Toronto and Western Ontario including the Ire Festival, Guyana Day Festival, Jamaica Day, Metro Toronto Caravan, Caribana, Carassauga, The Harry Jerome Awards, and at the Canada National Exhibition. In addition, In Motion Dance Company has performed at the Jamaica School of Dance, as special guests with Heritage Singers in Toronto and on Tour in Mexico and Germany and in Marvin Ishmael's production Sweet Pan. They have also been actively involved in performances for The Toronto District Board of Education, and Caribbean Organizations such as the Jamaica Canadian Association, Guyana Ex-Police Association, the Alliance of Guyanese Canadian Organizations, St Joseph's Alumni Association (Guyana) Toronto Chapter, Guyana Folk Festival in Toronto and Guyana Folk Festival in New York City.