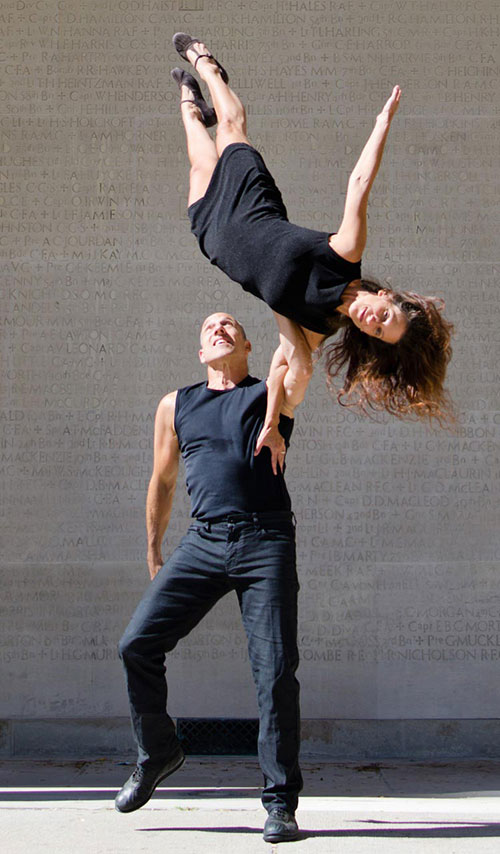 Kaeja d'Dance: Allen & Karen Kaeja
Dance Style
Contemporary
Workshop Title
Site-Specific creation
Workshop Description
Karen and Allen will collaborate with the dancers to create a unique and original site-specific performance piece that will both exemplify the dancers and re-imagine the landscape/location we are all in.
Artist Bio
Karen and Allen Kaeja celebrate 26 years as co-artistic directors of Kaeja d'Dance. Distinguished in 3 encyclopedias including the Canadian Who's Who, they are internationally recognized award-winning choreographers and dancers for stage and film, educators and project instigators. Their awards include the UNESCO Citation for the Year of Culture and Peace, the CDA "I Love Dance" Community Award for Porch View Dances (concept – Karen, development – K & A), the Clifford E. Lee and Bonnie Bird Awards (AK), Paul D. Fleck Fellowship for Innovation, Moving Pictures Award and many more. Runner-up for NOW magazine's 2011 Best Local Choreographers and 2015 Best Dance Company with nominations including the Dora Award (KK) and the OAC Education Award (AK), they have over 200 stage works / commissions that have led them to the U.S, India, Mexico, Portugal, Spain, Israel, England and Scandinavia. Creating with people of all ages and identities, they place value on bridging dance, art and the public. Karen and Allen have co-designed many site-specific and audience interactive engagement performance strategies. Over three decades of collaborating on various approaches to Improvisation and Partnering, they also teach Kaeja Elevations, Creation and Dance on Film in master-classes world-wide, having taught approx. 20,000 participants. They are long time faculty members at the School of the Toronto Dance Theatre, Brock and Ryerson Universities, conferences, festivals and institutions.
Artist Website
kaeja.org
Artist Email
allen@kaeja.org