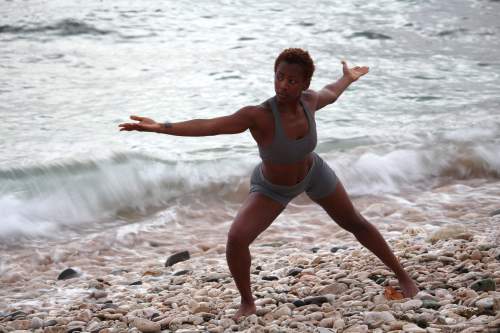 Jasmyn Fyffe Dance: Jasmyn Fyffe
Une version fran&ccedil:aise est pas encore disponible . Voir l'anglais à la place ?
Workshop Title
Contemporary explorations
Workshop Description
This workshop will take students through improvisational ideas, choreographic exploration and phrase work with a focus on how to approach physicality, musicality and variation of texture and dynamic in the body. We will explore the use of the floor, the use of other bodies and structures in the space and how the connection of our energies can drive and fuel the movement.
Artist Bio
Toronto based award winning choreographer/dancer Jasmyn Fyffe is described as " a young artist whose body of work is developing in a style all her own." (Sway magazine -- Anya Wassenberg).

Fyffe was the recipient of the 2013 Frankie Award (in Montreal) for most outstanding choreography/choreographer for her 50 min work "Pulse." She is the director of "Jasmyn Fyffe Dance" where she has been choreographing and directing for the past seven years and has created a total of twelve works both full length and shorter ensemble pieces. In addition to her work in Toronto, she has performed and choreographed work in Brooklyn NY, Montreal QC, North Bay ON and Sinop Turkey.

As an independent dancer, Jasmyn has performed in the touring musical UMOJA and has danced for Grammy Award winning artist Nelly Furtado. In addition she has worked with: Gadfly, Hanna Kiel, Vanessa Jane Kimmons, Red Sky Performance, Julia Cratchley, Leon Blackwood, Mix Mix Collective, Artists in Motion, Dance Migration,' K'aeja D'dance, KasheDance, Linda Garneau and more. In addition, Fyffe has performed in four Toronto Fringe Festival Shows in the years 2011 and 2013 and one of them "Jack Your Body" was very successful and went on to be presented in the Next Stage Theatre Festival 2014 to sold out audiences. She has also performed five solo works, one commissioned by Karen Kaeja. The solo works have been performed in: the Dance made in Canada Festival, Pulse Dance Conference, Older and Reckless, Animating
Artist Website
www.jasmynfyffe.com
Artist Email
jasmynfyffeinfo@gmail.com